At 6 month this pup was doomed.  Abandoned and alone in a shelter his life wasn't going to have a happy ending. A little training, love and care, Max A Pooch Who Recycles  is now a rising star doing his part to clean up the planet with the help of his sidekick Keith Saunderson
HDC: How did Max started retrieving trash?
Keith: Max A Pooch as most Labrador retrievers loves to chase/catch/retrieve a ball. I realized that his breed is subject to arthritis when they get older. I rationalized humans have lifetime sports that they can pursue when arthritis and other ailments slow them down as they get older, why can't dogs have life time sports. I looked around and decided there will always be litter to pick up and retrieve. So I began Max on cans and bottles, he graduated to coffee cups and other beverage containers. Now he will pick up other litter off of the ground if I give him the the okay to do so.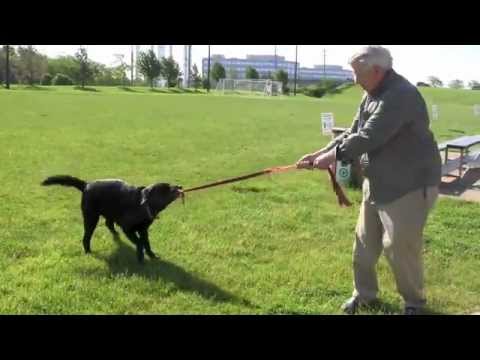 HDC: Were you a "green advocate" before you had Max?
Keith: I've always enjoyed the outdoors. I grew up in a suburb in upstate NY that was adjacent to hundreds of acres of fields which were returning to woodlands. They were filled with shrubs and first generation trees and were great places for a curious kid to ramble and explore. My father was a child of the depression and grew up on a farm. He taught me to be green. I think the phrase was coined. In his mind doing things like composting, growing your own vegetables, turning off the lights, and other "green" activities was being conscious of waste. I actually like the phrase concious of waste better than being green.
HDC: How did Max came into your life.?
Keith: Our granddaughter Zoe had her mother's permission to adopt a kitten. So Helen my wife, Zoe and I visited a local animal shelter named Orphans of the Storm in search for a kitten for Zoe. We had put Sneakers our 14 year old poodle down a few years earlier and had discussed finding a new dog sometime. While they were in the cat room I drifted out to look at the dogs and saw this poor black Lab  in one of the kennels. He was cowering in the corner and look as if he was traumatized. I went back to where Helen and Zoe were and said to Helen, "When you guys decide on a kitten take a look at the pooch in kennel 25."
We took him to an exercise area and let him run. We learned that he was 6 months, had his papers, and his owners had relinquished him to animal control. We fell in love with him. The rest is history.
HDC: Would you say that Max gave a new purpose to your life? Basically did Max recycled you as well?
Keith: Yes, through Max I personally experienced the incredible changes a dog can create in the life of its human companion.   I had been an "A" type corporate executive traveling constantly and achieving recognition for my work. I was diagnosed with prostate cancer and had a radical surgery. After I recovered I returned to work only to learn my job had been terminated. I soon learned that even in good times the job market is not very hot for a person in his mid fifties who had cancer. I never found another job that was as fulfilling and I became depressed. It was only after Max became Max A Pooch the throwaway dog who recycles that I realized I had found a new purpose in life. I became Max A Pooch's sidekick and together we raise people's awareness of the cost of littering and the cost of abandoning pets.
HDC: What is a typical day for Max?
Keith: After we get up I let him out in the backyard and I brew a pot of coffee. When the coffee is ready I let him in and I pour a cup and we sit for a few minutes. He becomes a lap dog at this point making sure I don't forget his walk. He becomes very excited when I tell him, "find boots." He goes to the mud room and retrieves first one boot and then the other boot. Next, I tell him to "find leash" which he brings to me. Once we are out in the local park I unleash him and he begins to cast and search for cans and bottles much like he would do if were in the country searching for game. When he finds a piece of litter he will bring it to me and I'll bend over so he can deposit the litter in a bag. If there is a trash receptacle nearby I will point to it and he will deposit the litter in the reputable. We take about an hour walk. The rest of the day he just lays around while I work. In the evening we go out with the chucker and a ball. Max is quite adept at catching a ball, he knows right and left, stop, down, roll over, far, etc. He also knows hand signals for most of those verbal commands. That pretty well wraps the day up for him.
HDC: What is your message to the world?
Keith: My primary message is that people who litter and people who abandon their pets share a common trait. That trait is they lack a sense of responsibility and they cost a lot of money and death. It costs the $15 billion dollars to attempt to clean up litter in the US, and 4,000,000 cats and dogs are put down each year.
So to America I say, Bend over and pick up litter… it's good for the waste line; if you are thinking of adding a dog to your household stop by an animal shelter and meet your new best friend."
HDC: What is next for Max and You?
Keith: I hope we win the Emerging Dog Hero category of the annual Annual Humane Association's Dog Heroes Award competition. It would help us publicize our mission which is by having Max A Pooch the recycled (rescue) dog demonstration picking up litter is so easy even A Pooch can do it. By seeing Max in action people will also realize there are incredible dogs at animal shelters waiting for forever homes.
HDC: Something nobody knows about Max?
Keith: At six months of age he was a real juvenile delinquent. He was a real project dog when we first brought him home.
HDC: Anything else you would like people to know about Max or your mission.
Keith: We are looking for a sponsor or sponsors so Max A Pooch can make more public appearances and travel more. He is a great spokes canine for a company that markets to pet owners or a company or organization that wishes to have a positive environmental image. Max A Pooch draws attention wherever he goes and is a well known brand.

Max Needs Your Vote to keep going  with his mission
Click here for details and vote
Find out more about Max and Visit his  website here